50+ BEST Breakfast ideas to inspire! We love breakfast, and have rounded up our favorite breakfast ideas including one of our favorites, our Easy Baked Eggs!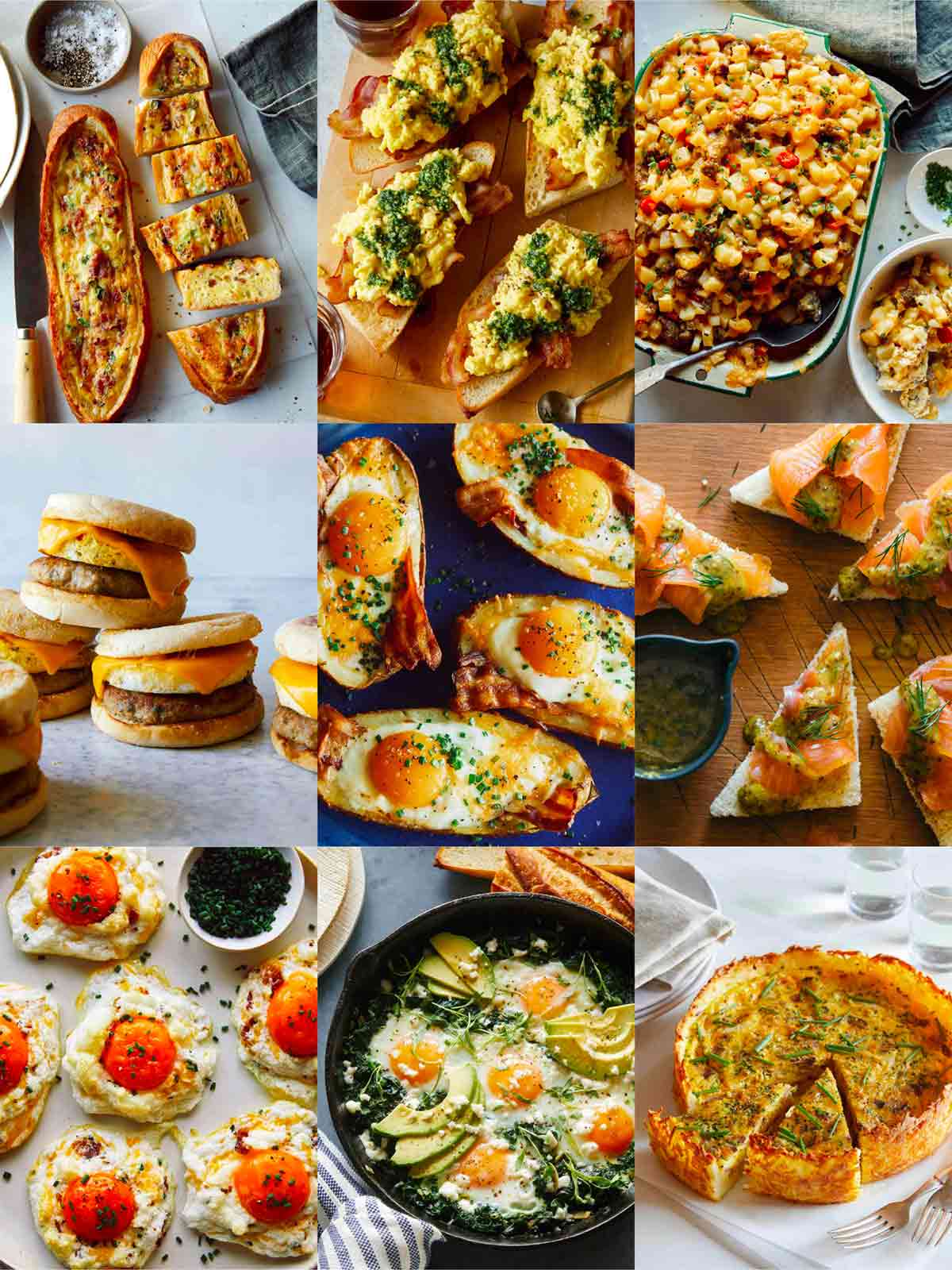 We're always on the search for delicious breakfast ideas! Breakfast might be one of our favorite meals of the day. We believe it really is the most important meal of the day; starting our days off with a good breakfast helps sets a positive tone for the rest of the day. We both have more energy and tend to not mindlessly snack as much after fueling up in the morning.
We've put together a list of 40+ ridiculously delicious breakfast ideas for you all. We're so excited about every single one of these breakfast recipes! From egg-centric recipes, healthier options, sweet treats and much more – there's truly something for everyone here!
Breakfast Ideas with Eggs, Yes Please!
Eggs are probably one of our favorite things to eat for breakfast and our Baked Egg Boats are top notch! It's the most delicious quiche you will ever eat, but baked into a crusty, toasted baguette instead of a pie crust. It's hands down one of our best breakfast creations!
If you have a little more time on your hands, you need to make these Twice Baked Breakfast Potatoes! It's one of our favorite breakfast ideas with eggs! They're so decadent and delicious and a perfect breakfast to make and enjoy on a lazy weekend!
These Cheesy Flaky Breakfast Cups are perfect when you're making breakfast or brunch for a crowd. It's really easy to get these whipped up once you have all your ingredients together.
We might be bias, but we think our take on Egg McMuffins with ham are better than the original. They're easy to make, ridiculously delicious and a total crowd pleaser! These not so little egg muffins will make anyone happy!
Our Croque Madame Toast is definitely not to be missed. It's one of our favorite, indulgent egg recipes for breakfast; plus it's so easy to make!
We think our Chorizo and Fried Egg Breakfast Tacos are the ultimate breakfast tacos! They're crazy delicious and can easily be made vegetarian friendly by swapping the chorizo our for soy chorizo!
Looking for Savory Breakfast Recipes, We've Got 'Em!
Our Sausage Strata is a favorite easy breakfast idea for special occasions. You can prep it all the night before and store it in the fridge, then when morning rolls around just pop it in the oven!
Although you might not believe it, Homemade English Muffins couldn't be easier to make! They're also so delicious and unlike any store bought ones you've eaten before, we promise.
Biscuits and Gravy is another indulgent meal that we totally love. The biscuits are soft, fluffy, buttery and perfect for sopping up all the creamy sausage gravy!
Delicious homemade Gravlax is another recipe that seems like it's really hard to make, but it's not at all!
Huevos Rancheros are always a big yes for us! We love this breakfast idea with eggs so much! There are so many big, delicious flavors going on and we're very into it!
Healthy Breakfast Recipes
Cloud Eggs are not only healthy and fun, but delicious too! This protein packed, low-carb breakfast can be made with so many different mix-ins, based on your personal taste and preference. We love adding some sautéed spinach or diced mushrooms into the whipped whites. Delicious!
We love our fresh and delicious Heirloom Tomato Tart! It's a delicious breakfast recipe that can actually be enjoyed anytime of the day!
Move over avocado toast – our Breakfast Scramble Stuffed Avocados are the perfect, more indulgent but low-carb breakfast idea that everyone loves. They can be made in under 10 minutes and the recipe can be scaled up or down so easily!
One of our favorite healthy breakfast ideas is this Green Shakshuka. It's filled with sautéed spinach, soft cooked eggs and topped with creamy avocado slices and a light sprinkle of queso fresco.
There are so many options with our Chia Pudding! The endless topping possibilities and spice tweaks, like a pinch of cinnamon or vanilla, make it so we're never bored with this delicious and healthy breakfast idea!
Our Homemade Granola Bars are something we always have ready to go in the freezer! They're a great grab and go breakfast or snack. We love how they hold together so well and use way less sugar than most store bought ones.
Breakfast Ideas the Whole Family Will Love!
This Breakfast Casserole is so easy to make, can be tweaked based on flavor preference and is truly a hearty breakfast idea that the entire family will enjoy!
Our Freeze Ahead Turkey Sausage Breakfast Sandwiches are the perfect breakfast idea for kids …well the whole family actually! They reheat in just a couple minutes and a perfect grab and go breakfast for the days you're running out the door!
Brown Sugar Coconut and Blueberry Pancakes takes plain pancakes to the next level! They're so easy to make (so get the kiddos involved, if they're old enough!) and really tasty! We love topping them with even more berries!
We think pizza should be eaten anytime of the day and you can do that with our Breakfast Pizza. Everyone will be thrilled to see a big ol' pizza with all the delicious breakfast toppings sitting on the breakfast table!
Apple Cheddar Scones are the best of both sweet and savory breakfast recipes! We guarantee everyone will love these delicious treats!
Sometimes you just want to give everyone in the family a treat and our Brown Butter Cinnamon Rolls are the perfect sweet breakfast to serve! The brown butter gives these fluffy cinnamon rolls a really awesome, nutty flavor. Serve with plenty of extra glaze on the side!
Banana Bread French Toast is also another great breakfast idea for kids! This one is definitely over the top, but makes a wonderful special breakfast (especially) for birthdays or holidays! They'll love the crispy corn flakes coating soft and delicious banana bread in this french toast! Switch things up from the typical maple syrup and finish them off with a drizzle of warm almond butter or peanut butter for an extra delicious breakfast and treat all rolled into one!
If you've never made homemade bagels before, you must try our Mini Everything Bagels! They have a nice golden crust on the outside with a perfectly chewy center and packed full of flavor.
Quick and Easy Breakfast Ideas, You Got It!
A quick breakfast idea that we really love is our Coconut Banana Pancakes! They're so easy to make and so satisfying! They're perfect for any morning of the week too! We love drizzling them with some maple syrup and finishing them with some crushed almonds (or other nuts like pistachios or walnuts) for texture!
If you've never had Honey Brick Toast before, you're in for such a treat. A sweet custard is slathered onto thick pieces of milk bread (or other soft bread like brioche) and baked until sweet, toasty and totally addicting.
Our Savory Herb French Toast is for people who prefer savory breakfasts over sweet ones. It's so good, especially with a fried egg thrown on top!
Another savory quick breakfast idea we love is our Herb and Cheese Dutch Baby. Just toss all the batter ingredients into a blender, pour into a hot skillet, bake, add cheese, bake again and enjoy!
Who Doesn't Love Breakfast for Dinner?
Breakfast Pot Pies? Yes, totally a thing! These stick to your ribs pot pies are so good! One of our favorite weekend breakfast ideas for sure!
Our Loco Moco with Mushroom Gravy is another one of those stick to you ribs weekend breakfasts that we love! This dish can actually be enjoyed for dinner too, which we're done on a number of occasions. We also love sticking some sautéed or steamed spinach on the side to help lighten things up.
This Breakfast Tart is basically our excuse to toss simple breakfast ingredients onto a flaky sheet of puff pastry. It's so easy to throw together; just add a salad on the side and you have a complete breakfast for dinner sitch on your hands!
Chilaquiles is another favorite indulgent breakfast over here. Our version is makes a simplified red sauce, but still packs so much flavor and texture. We could eat this everyday.
If you love shrimp and creamy cheesy things we guarantee you'll love our Shrimp and Grits recipe! There's so much flavor in the spice blend for the shrimp, with a small kick, which pairs them perfectly with the creamiest, cheesiest grits ever!
If nachos are an acceptable dinner then so is our Breakfast Poutine with Hollandaise Sauce! It's not a casual every night dinner, but definitely something to pull out every now and then when you really want to indulge!
Our Favorite Sweet Breakfast Recipes
When we're looking for something on the sweeter side for breakfast we'll turn to these Meyer Lemon and Ricotta Stuffed Crepes. They're so easy to make, are too sweet and really fill you up.
Salted Chocolate Dipped Liege Waffles are our favorite waffles! Seriously. They may take a bit more time and effort, but you're rewarded with the most unreal, crispy on the outside, chewy with bits of crunch from the sugar on the inside waffles. So good!
We love the flavor combination of our Cranberry and Orange Scones! They're a great grab and go breakfast to enjoy with your coffee or tea and also make a great brunch treat for a ground of people!
Our Cinnamon Roll Loaf is a breakfast idea that slightly simplifies the cinnamon roll experience. You get all the delicious flavors and soft and fluffy textures, but can have just a small slice if you want.
Who says you can't eat cookies for breakfast?! Our Blueberry Yogurt Cookies are the perfect breakfast cookie! They're light, fluffy, cakey, and reminiscent of coffee cake or muffins.
Our Strawberry Muffins are soo good! They make a fantastic grab and go breakfast, filled with sweet strawberries against a fluffy muffin crumb. The Best!
If you're a donut lover, you will love trying our Sweet Potato Spudnuts! These light and fluffy donuts are so good and one of the best ways to start your morning!
Our Triple Berry Bread Pudding is one the whole family will love! It's sweet, decadent and the perfect breakfast idea for a celebration like Mother's day, Holiday breakfasts, etc!
More Delicious Recipe Roundups You Will Love
Hungry for more?
Subscribe to never miss a recipe.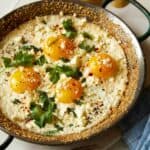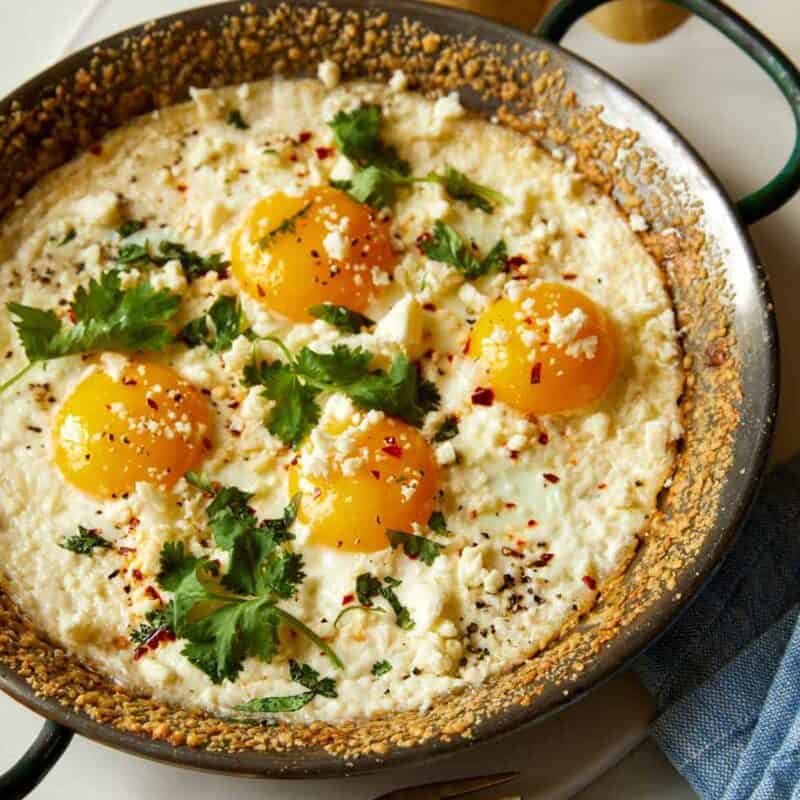 ---
50+ BEST Breakfast Ideas: Easy Baked Eggs
50+ BEST Breakfast ideas to inspire! We love breakfast, and have rounded up our favorite breakfast ideas including one of our favorites, our Easy Baked Eggs!
  INGREDIENTS  
  INSTRUCTIONS  
Preheat oven to 350˚F.

Rub a small baking dish with butter and sprinkle with parmesan.

Crack eggs into baking dish and top with cream. Season with salt and pepper.

Bake eggs for 12 to 15 minutes or until whites have just set, but yolks are still a little runny.

Remove eggs from oven and top with crumbled feta, crushed red pepper flakes and cilantro leaves.

Serve with toasted bread.
Calories: 270kcal Carbohydrates: 2g Protein: 11g Fat: 25g Saturated Fat: 14g Cholesterol: 251mg Sodium: 208mg Potassium: 91mg Fiber: 1g Sugar: 1g Vitamin A: 1083IU Calcium: 126mg Iron: 1mg
CUISINE: American
KEYWORD: baked eggs, breakfast
COURSE: Breakfast
Previous Post:
<

Previous Post

Breakfast Casserole
Reader Interactions